Then and Now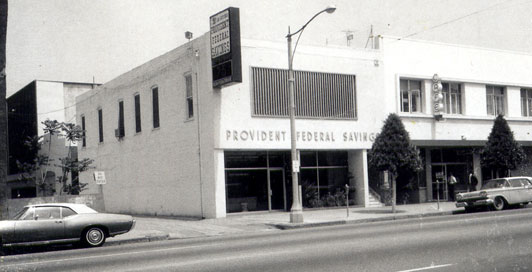 The first Home Office on 8th Street (Now University Avenue) in Riverside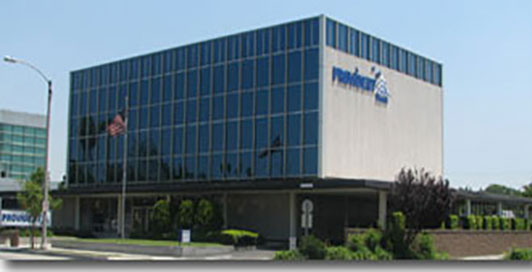 Provident's Corporate Office Building today, on Central Ave.
1950s: The Beginning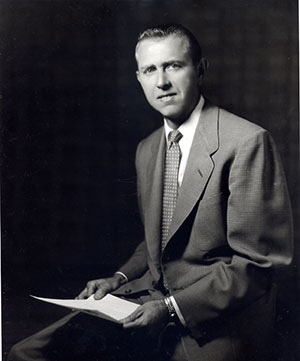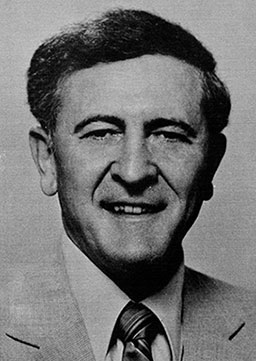 Left: Gordon Blunden, Founder/First President and
Right: Jack Wright, Original Accountant/Later President
On March 26, 1956, Charter 12069 for the creation of a savings and loan association in Riverside, was approved for its founder, Gordon A. Blunden, and a group of local businessmen: Luman W. Green, C. Jean Bell, S. Ferris Bell, and Robert P. Rexroth. Although initially planned to be called "Bell Savings and Loan Association", the name settled on was "Provident Federal Savings and Loan Association of Riverside." It was named for the Oxford Provident Savings and Loan Association, the first savings and loan association founded in the United States in Frankford, Pennsylvania in 1831. It was therefore more meaningful that the first office of the new Provident Federal and Loan Association was established at 3643 8th Street on April 23, 1956, the 125th Anniversary of the savings and loan industry in the United States. Federal insurance of accounts then became effective on July 1, 1956.

Offering depositors earnings of 3% per annum, and staffed by Mr. Blunden, an Escrow Officer/Loan Processor, and a Savings Teller, Provident Federal assets reached $1,000,000 within 45 days. After one month, with assets of $2,000,000, an accountant, Jack H. Wright, was added to the staff. Mr. Wright would later become President of the Bank.

Provident Federal was first with a few important items for the Riverside Community:

The FIRST Federally-chartered savings and loan in Riverside.
The FIRST savings and loan in the area to pay quarterly dividends, and
The FIRST to have the very popular "Time and Temperature" sign in the local community.
With assets totaling $10,000,000 during 1959, Provident Federal made an application for a branch office to be opened in Redlands, and approval for this office was received in December, 1960.
The 1960s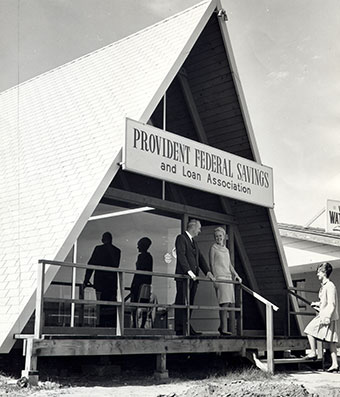 Above: An Early Sun City Office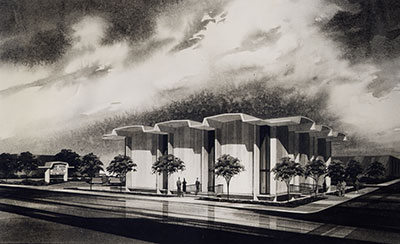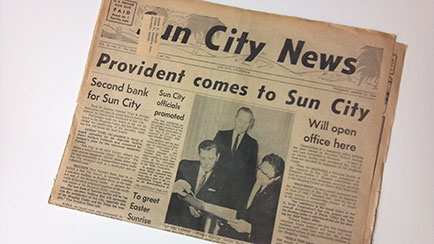 Left: The New Redlands Office and Right: Announcement of new Sun City Office
The doors opened at the first branch office at 1 West State Street in Redlands on May 22, 1961. Provident Federal now had a total staff of 14 people, 5 of whom worked at the new Redlands Office.
As the Association continued to grow and additional people were added to the staff, it was essential that new quarters be found. On September 28, 1962, ground was broken for a new home office to be built in Magnolia Center. On June 14, 1963, reflecting the vigor of the savings and loan industry in the Southern California area, Provident Federal proudly welcomed friends and customers to their new head office at 3756 Central Avenue in Riverside. The original office on 8
th
street (now called University Avenue) was retained as a branch office, and at that time, 7 more people were added to the payroll of the association, making a total of 30 employees.
Provident Federal again became the FIRST savings and loan in the area with:
Drive-through teller service, as well as
The FIRST savings and loan association offering free safe deposit boxes.
Late December of 1963 saw the application for another branch office and on April 2, 1964, the A-frame building housing the temporary quarters of the Sun City branch office was opened. Upon completion of the new shopping center, Provident opened their permanent branch office at 26880 Cherry Hills Blvd. on April 1, 1965. With continued growth and assets approaching $52,000,000, a better facility was now needed in Redlands. On December 1, 1966, Provident was proud to offer their new facility at 125 E. Citrus Avenue to their Redlands customers.
Approval was received for the completion of a merger with Security Federal Savings and Loan Association in Westwood on February 5, 1968 giving Provident a six story regional office on Wilshire Blvd. In addition, FHLB approval was given in August, 1969, and a great transformation from an Orange Julius stand into temporary quarters of our Hemet office which was opened on December 29, 1969.
The 1970s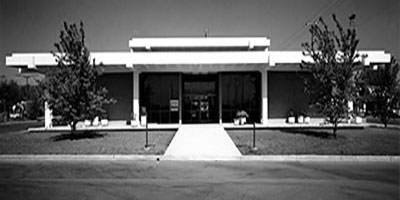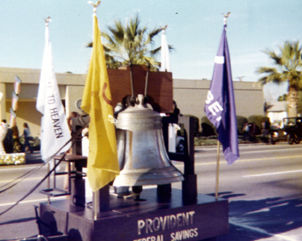 Top: The Hemet Office and
Bottom: 1976: Provident Liberty Bell
With approval from the Federal Home Loan Bank, Provident leased space in Dana Point and on August 4, 1971, began to service customers at the new branch. Assets were now reaching $110,000,000 and 5% was the regular passbook rate of earning.
The Hemet office quickly outgrew its temporary office and Provident opened its new Hemet office with a grand opening on February 4, 1972. In 1975, a new free-standing office was opened in Sun City to provide more space and convenient customer services.
Seeking to provide better customer service, the Money Machine account was instituted. The Money Machine was an early predecessor to current day ATMs and provided a fixed amount of cash dispensed to our customers when they inserted their card.
In 1977, additional office space was provided for the head office campus on Brockton Avenue to provide space for the Accounting Department, Data Center, Provident Financial Corp., and the office supplies warehouse. In early 1978, plans for a new free-standing site were created and an application was submitted for a branch in the desert community of Rancho Mirage which opened in March, 1982.
The 1980s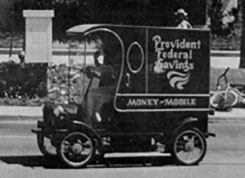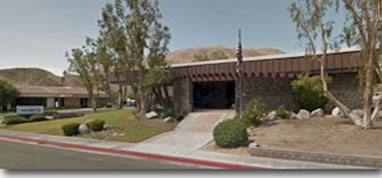 Left: 1980s: The Money Mobile and
Right: Our Rancho Mirage Office
The year 1981 saw savings and loan industry deregulation allowing many new savings and checking account products. Provident began to offer NOW accounts and in conjunction with the interest on checking accounts, other convenient services were introduced including Pay-by-Phone and Transmatic electronic payment services. The now familiar variable or adjustable rate mortgage loans were also introduced.
In August of 1982, Provident took over the Colorado River Federal Savings, and Loan and with the merger, added offices in Blythe and Brawley, continuing the plans of concentrating in the Riverside/San Bernardino county area.
In March, 1983, Provident Federal Savings and Loan Association became Provident Federal Savings Bank under Charter 3256. This change allowed the bank to offer additional services including the establishment of a Major Loan Department and the start of the first commissioned loan agent program.
In June of 1985, Provident negotiated the highly profitable sale of the Westwood office and continued plans for future activities in the Inland Empire. In November, 1986, Provident purchased the Canyon Crest branch office from Glendale Federal and established a vital link within the Riverside area between the downtown office, the home office, and the Moreno Valley office for its customers.
In April, 1988, Profed Mortgage Corporation, a wholly owned subsidiary of Provident Federal Savings was formed to provide both wholesale and retail loan operations in selected branches of the Bank. Profed became an integrated part of the Loan Division of the Bank on June 1, 1989 and operations were expanded in both Santa Ana and San Diego.
The 1990s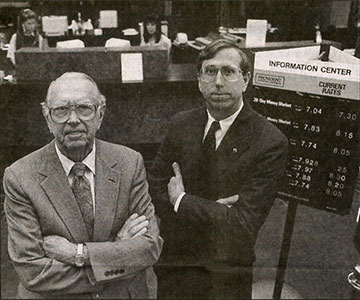 Gordon and Craig Blunden
In December, 1990, Gordon Blunden, founder of the Bank, formally retired as President and remained a member of the Board of Directors. Craig G. Blunden was approved by the Board as Chairman of the Board, Chief Executive Officer, and President.
On June 27, 1996, Provident Savings Bank, FSB converted from a federal mutual to a federal stock savings bank. With the conversion was the beginning of Provident Financial Holdings, Inc. The Company raised a net of $45,679,000 in its first public offering and contributed $24.9 million of these proceeds to the Bank.
As the frenzied pace of bank acquisitions trended starting in 1998, more than five of our strongest competitors were either merged out of existence or announced merger plans. This provided Provident with the incredible opportunity to emerge as the dominant independent financial services provider of the Inland Empire. We recognized that this required us to assume a leading role in the delivery of products and services and thus began the process of installing new state-of-the-art data systems that were year 2000 compliant. Employees were also cross-trained to be more responsive to the changing needs of our customers.
The Early 2000s
In August of 2001, we continued our growth in the Inland Empire by opening two new offices in Temecula and Corona. Additional offices in Riverside were to follow, including offices on Van Buren Blvd. in the Orangecrest area opened in September 2003 and on La Sierra Ave near the 91 freeway opened in January 2007.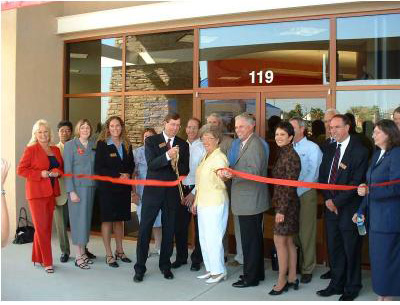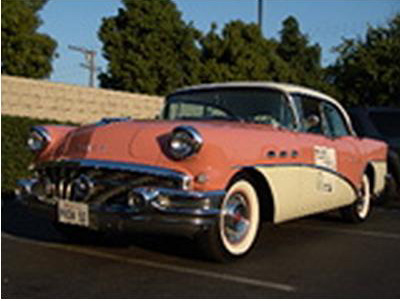 Left: Orangecrest Grand Opening and Right: 2006: 50th Anniversary
2010 and Beyond
This decade allowed for times of growth and retraction at Provident Savings Bank. In order to return to our roots, Provident has refocused our efforts to Retail Banking and Portfolio Lending, including Mortgage, Commercial and Construction Lending.
Offering a full range of lending, business, commercial, investment, and deposit services we continue to seek to meet our customers' needs. People need professional expertise to help them realize their financial goals and as we move forward in the 21
st
century, the primary goal for Provident is to provide a superior level of financial services to the residents in our marketing areas. Having celebrated our 60
th
Anniversary in 2016, we are proud of our accomplishments and our never-ending policy to maintain the fine name we have established in the financial services industry.
At our heart, Provident Savings Bank has always been and will remain the Community Bank of choice in the areas we are privileged and proud to serve.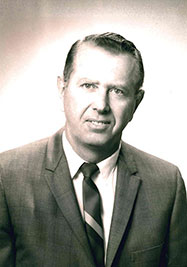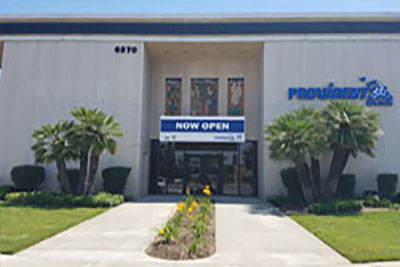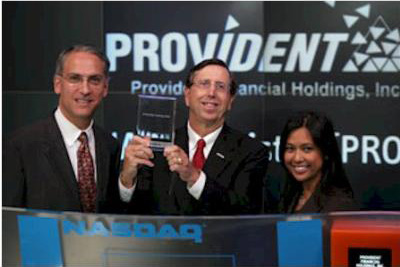 Left: Growth Beginning with Founder Gordon Blunden, Center: Riverside Magnolia Ave. Expanding the Home Office again!
Right: Growth Continues with Craig Blunden (center) getting ready to ring the closing bell at NASDAQ