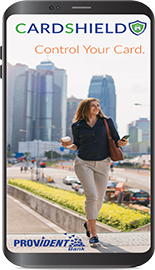 Protect your Provident Debit Card wherever you go with...

MyProvident CardShield - Available for Apple & Android phones.
MyProvident CardShield*, our debit card management app that integrates with MyProvident Mobile Banking, protecting your Provident Bank debit card from fraud and allowing you to control card usage and spending on the go.
Card On / Off Setting
Turn your debit card on and off, in an instant, for any reason. When "on" transactions are allowed per your settings. When "off," purchases or withdrawals are declined.
Transaction Controls
Add another layer of protection. Set your transaction controls to allow your debit card to work only in specific locations or geographic areas, or to restrict certain merchant or transaction types.
Alerts Enable Safe, Secure Card Usage
Turn on real-time alerts for PIN and signature transactions to keep you informed of your card usage to quickly detect unauthorized or fraudulent activity.
Control Spending
If you're trying to establish or stick to a budget, CardShield can help. Set spending limits for general use or specify thresholds by merchant types, such as gas, groceries or retail stores. You can also establish these controls by location. And, changing these parameters can easily be done anytime via your mobile device. Going on vacation? Holiday shopping? Simply update your transaction controls to fit your spending needs.
Two ways to get started.
Sign in to MyProvident Mobile banking and click on MyCards to enroll and register your cards. If you are an existing CardValet user you can move your existing cards with their current controls and alerts settings as easy as 1-2-3.
OR
Download the MyProvident CardShield app from your app store. Sign in with your online / mobile banking user id and password and register your cards.
Either way, you will be able to access your controls from MyProvident Mobile and / or CardShield.
*You must be an Online Banking or MyProvident Mobile consumer customer in order to use MyProvident CardShield.