Temecula Office Information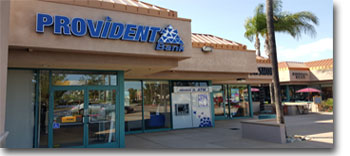 ATM: Walk-up
40705 Winchester Rd., Ste. 6
Temecula, CA 92591
Monday-Thursday: 9am to 5pm
Friday: 9am to 6pm
Saturdays: 10am to 2pm
Welcome
Temecula, CA Bank - Serving the Community for Over 60 Years!
Temecula offers a sunny, relaxed destination in Southern California that is home to passionate dreamers and driven entrepreneurs as well as rolling hills, panoramic views, and a charming atmosphere. Known for its award-winning wineries, Temecula also offers a variety of other events and activities for every season including hot air ballooning, various golf courses on gorgeous vistas, and rich arts and culture from the Old Temecula Community Theater, Temecula Valley Museum, and the Temecula Children's Museum.
Residents of Temecula know that when it comes to trusting someone with their finances for personal and business matters, Provident Bank is second to none! They have been serving the greater Inland Empire area for over 60 years with incredible financial services including mobile banking, worldwide ATMs, online bill pay, business loans, merchant credit card processing, and basic banking services.
Convenient Online & Mobile Banking Services from this Temecula Bank
Trust Provident Bank in Temecula, CA to handle your personal banking needs and provide you with convenient services including
MyProvident Mobile® Banking
, CardValet
®
, and
ATMs Worldwide
. You can easily perform all of your banking 24/7 from your laptop, smartphone, tablet, or computer. View balances and recent activity, deposit checks, pay your bills, move money, make a loan payment online, and more.
Temecula Bank Offers Seamless Business Banking Services
Owning a small or mid-sized business in Temecula will bring challenges that can affect the shape, direction, and performance of your business for years to come. It is important to have a banking source like Provident Bank that can utilize vast resources to meet the needs of local business people. They offer a wide array of
options to meet your business financing needs
and help you grow including Merchant Credit Card Processing, Access Plus Direct Talk, Business Leasing, and Business Banking Loans.
Provident Bank's professional Business Banking officers are dedicated to providing Temecula business owners with the personal attention they require!
Open up a
business checking/savings account
today with Provident Bank! Choose from a variety of options that may suit your needs including Basic Business, Business Interest, Corporate Interest, Community Interest, and more!
Contact Provident Bank
or stop by their location in Temecula today to learn more about their personal or business banking services and to set up your account today. They will work hard to earn your trust, maintain their good name, and be the best financial services option for the Temecula community!