Moreno Valley Office Information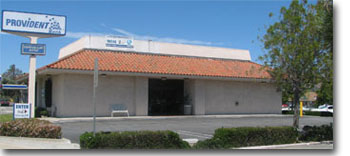 ATM: Drive-up
12460 Heacock St.
Moreno Valley, CA 92553
Monday-Thursday: 9am to 5pm
Friday: 9am to 6pm
Saturdays: 10am to 2pm
Welcome
Moreno Valley Bank - Offering Competitive Rates & Wealth Management!
Conveniently located near mountains, desert, and beaches lies Moreno Valley, a city brimming with beautiful city parks, local art, year-round activities, and more! Some popular destinations near this California town include the Lake Perris Recreation Area, the Riverside Art Museum, and the Palm Springs Tram.
Whether you are searching for a quality bank in the Moreno Valley area for general banking needs, business banking, home mortgaging, or to wealth management, Provident Bank offers a variety of services to suit your specific needs!
Moreno Valley Home Loans & Commercial Loans
Call the Provident Bank Loan Center in Moreno Valley to apply for a
home mortgage
or have your specific questions surrounding mortgages answered. Get a free consultation on which mortgage program would be right for you whether you are a currently a renter, a first-time homebuyer, or a purchasing a new or second home in Moreno Valley. Provident Bank will help you realize your home ownership dreams by offering great advantages including:
Low Rates
Online Applications
Variety of Mortgage Programs
Experienced Loan Professionals
If you are in need of a loan for your business in Moreno Valley, Provident Bank offers a variety of useful types of loans, accounts, and tools to help your business grow and flourish. Utilize customized business loans and lines of credit, competitive checking and savings accounts, online banking services, 24-hour automated telephone banking, and VISA® debit cards.
Partner with this Moreno Valley Bank for Your Wealth Management
Those living in the Moreno Valley area can trust Provident Bank to help them
manage and grow their wealth
through the products and services offered by an Investment Services Financial Consultant. They offer the knowledge and experience needed to help you make careful investment decisions and achieve long-term goals! Provident Bank Offers access to investments including Fixed Rate Annuities, Variable Rate Annuities, Mutual Funds, Life Insurance, Long Term Health Care, and more.
Contact Provident Bank
in Moreno Valley today for your home mortgage, business loan, investment services, or basic banking needs. They have proudly served the greater Riverside area for over 60 years and are ready to assist you today!