Blythe Office Information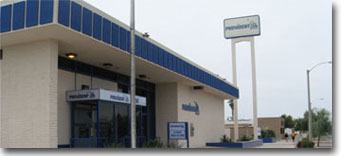 ATM: Drive-up and Walk-up
350 E. Hobsonway
Blythe, CA 92225
Monday-Thursday: 9am to 5pm
Friday: 9am to 6pm
Saturdays: 10am to 2pm
Welcome
Blythe, CA Bank
Located in the Palo Verde Valley and along the Colorado River, Blythe, California offers a variety of popular events including the Colorado River Country Music Festivals, Miss Blythe Pageant, Family Fair, Street Festivals, Stock Car Races, and more exciting activities! Blythe is often a stopping point for travelers coming from Los Angeles or Phoenix, and offers a full range of services and amenities for tourists.
There is a need in Blythe for convenient banking services, and those can be found at Provident Bank! They offer a wide range of services and products that can be easily accessed online or from your mobile device. Get a free consultation for home mortgages, talk to an expert about business loans and leases, and learn more about featured services today!
Get a Home Mortgage from this Bank in Blythe
Call the Loan Center at Provident Bank if you are interested in applying for a
home mortgage
in Blythe. You will find an assortment of tools and loan programs whether you are a first-time homebuyer or are purchasing a new home. Advantages of working through this bank in Blythe include low rates, online applications, help from experienced professionals, and a variety of mortgage programs including:
Fixed Rate Mortgages - 15 and 30 year fixed options
Adjustable Rate Mortgages
First Time Buyer Programs - Options with lower down payments
Refinancing Loans - Reduce monthly payments or the life of your loan
Our Blythe Bank Offers Business Loans, Leasing, & Other Services
If you own a business in Blythe and would like to see it grow and flourish, talk to the experts at Provident Bank about a business loan or lease. Along with this flexible form of financing to help meet your business goals, Provident Bank offers a variety of other tools helpful for businesses including Merchant Credit Card Processing, Access Plus Direct Talk, and tools for cash management.
With various intuitive services and products, Provident Bank is the right place to go for your personal and business banking needs in Blythe.
Contact a mortgage or loan professional
and discover how to make your homeownership and business dreams come true!