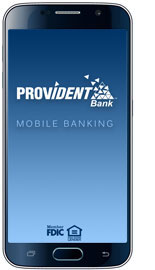 Bank wherever you go with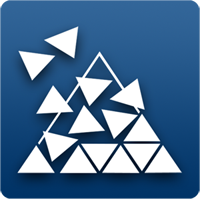 MyProvident Mobile® Banking
Available now for Apple/Android phones.
Get it now:


View balances and recent activity, deposit checks, schedule and pay your bills, move money, and more. Simply download the app from the Apple iTunes Store or the Google Play Store. Use your existing Provident Bank Online Banking Sign-On ID to get started.

• Manage accounts, Check balances, View transaction history
• Pay Bills
• Transfer between any of your accounts
• PopMoney - transfer funds to/from other people
• Find ATM/Branch Locations
• Make Check Deposits through your phone any time of day


You must be an existing Provident Bank customer enrolled in Online Banking in order to use this app.

Not signed up yet for Online Banking? Enroll Now!

There is no charge for the app, however, your mobile carrier's message and data rates may apply.

APP UPDATE - August 10, 2016:
Instant Balance is now available. After turning on the function from the "More" option (see instructions below) and selecting accounts, a icon will appear in the upper right corner of the sign on page to display the account balances.


Instant Balance Setup:

Find Instant Balance Settings in the "More" Menu.
Switch Instant Balance on and select the account balances you want to view without logging in (up to 6 accounts) by pressing the radio button to the right of the account.
After setup, view your balances by tapping on the Instant Balance icon at the top right of the login screen ().
APP UPDATE - March 16, 2016:
Multiple users may now use the app on the same phone by pressing the "Change" button to the right of the sign on ID on the Log In page.


New user experience with a sleek modern look to the app with an intuitive workflow for tasks that reduces the number of steps you will need to click through to complete a task.


Check images are now available for viewing for checks you have written.